Here's My Woodworking!
By Matthew Miller
Asheville, NC
I started woodworking a little over seven years ago. While trying to perform a tune up on a car I had at the time, I came across a YouTube video about getting started in the hobby. I was instantly hooked. In the beginning I was dismantling pallets and building small pieces from those. I then moved into using plywood and pocket hole joinery. Now, I primarily work with hand tools and solid lumber.

While trying to figure out what to do with several offcut pieces of sycamore left over from a blanket chest build, I came across a how-to video about wood burning and pyrography. I was very excited because this looked to be a good use for scraps. Even though I'm not great at drawing, there are really simple ways to transfer images to wood and then go over them with a wood burning pen. The start-up costs can be pretty low as well and you can make pieces on a kitchen table if you are short of space.

Trying to find unique pieces of wood to match the design is probably the most exciting part for me. Below is the first piece I made and gave to my wife at Christmas. It's a piece of spalted sycamore and I like how it now mimics an almost desert environment for the elephants.




Small pieces can be exciting too. Below is a scrap of yellow pine left over from building a new workbench. Different woods present challenges in how they burn, so that's another thing to learn. Softer woods can burn darker more easily but can leave a rough, uneven surface that can ruin the appearance. It's all about finding a good balance.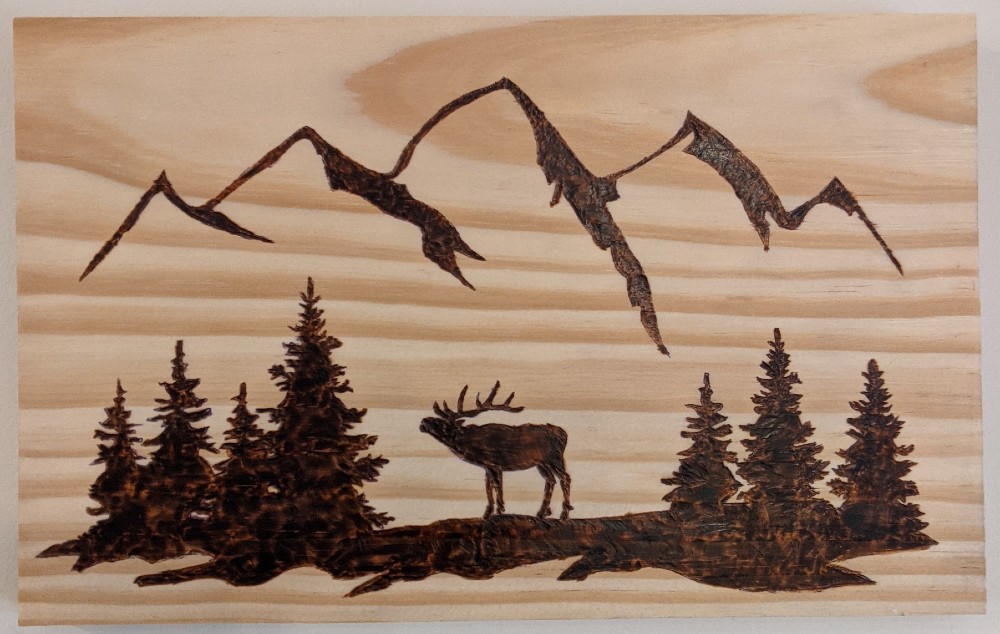 After doing a few of these, my kids started making requests for their rooms. My son is really into dinosaurs, so I did this on another piece of sycamore. It was fun to let him pick out his own design.



My daughter prefers animals of present time. During the first lock-down we watched an online presentation from The Duke Lemur Center in North Carolina. They've now become her favorite animal. I like to think that this piece shows the value of keeping scraps and finding use for them.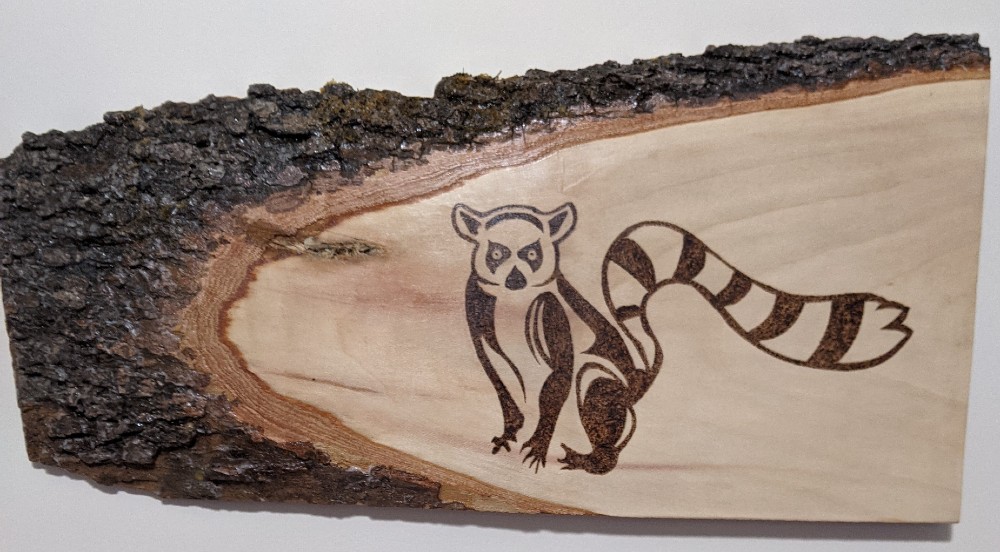 Then one weekend for family movie night, we watched Son of Godzilla. The kids thought it was good fun. So, their next request naturally was…


After several posts on Facebook sharing these projects with friends and family, a co-worker of my wife's husband asked if I could do a large sign for his business. The sign ended up being 24" tall and 32" wide. The wood is spalted maple and finished with beeswax. It will be used exclusively as a background during Zoom meetings with clients. This experience led me to start advertising this service and I am currently working on several pieces for other people. I think the most important thing for me right now is to make sure I take on what is manageable. The extra income is nice too. I don't know if this will become a full time job, but it certainly has been keeping me busy during this pandemic.



---
Matthew can be reached directly via email at mmiller3506@gmail.com.
Return to the Wood News Online front page
Woodworking Submissions

Would you like for your woodworking projects to appear in this column? We invite you to SEND US PHOTOS of your woodworking projects along with captions and a brief history and description of your woodworking. (Email photos at 800x600 resolution.) Receive a $50 store credit redeemable towards merchandise if we show your woodworking in a future issue.

Click here to submit
your woodworking projects




Show Us Your Woodworking
Archive Gallery

Want to see more woodworking projects? Check out our gallery of past Show Us Your Woodworking Columns from previous issues of Wood News Online.



Click here to view our archive gallery



Click the images below to visit some of our most popular tool departments
| | | | | | | |
| --- | --- | --- | --- | --- | --- | --- |
| | | | | | | |
| Finishing | Books | Clearance | Festool | Planes | Sharpening | Wood Turning |
Highland Woodworking
1045 N. Highland Ave. NE
Atlanta, Georgia 30306
Tel. 800-241-6748
Email us at email@highlandwoodworking.com
Visit us on the web at www.highlandwoodworking.com
Copyright © 2021 Highland Hardware, Inc.

Errors regarding pricing and specifications are subject to correction.
SOME SALE QUANTITIES MAY SELL OUT and become unavailable at the advertised price.